About Trinity Yoga Studio
Trinity Yoga Studio offers a safe, friendly space to begin, continue, or deepen a yoga practice. We are dedicated to offering yoga and pilates classes for all levels of yoga and fitness experience with classes ranging from gentle yoga to hot power yoga. Our instructors are all Registered Yoga Teacher (RYT) certified and passionate about how yoga has enhanced their health and life. Sharing yoga in the Pasco county area continues to be the most important goal for Trinity Yoga Studio.



Janel Norton
Janel tried her first yoga class in 1992 while covering humanitarian relief efforts in Bosnia, she didn't understand a word of it (the class was in another language). Fast forward 20 years of working in high stress environments such as war zones, daily newspapers, graduate school, and the biggie--parenting. She always found that a good workout was a great way to keep her sane in the midst of a hectic schedule, but had no idea how physically demanding yoga could be until she stepped into a hot power class at Trinity Yoga. She was hooked! Then, something transformational began to happen. She noticed yoga following her off the mat. Whether it was using the breathing techniques she learned in class to stay calm through heavy traffic, or taking a pause to center before dealing with her prepubescent daughter, she found the after effects of yoga were transformational on many levels. Janel decided to explore yoga further through teacher training, and received her Yoga Alliance 200-YTT certification through the Lotus Pond this past March.
Before the ink could dry, she signed up for their 500-YTT. The stars aligned just as she began teaching classes at the very studio where she began her yoga journey, it was an offer to become co-owner of Trinity Yoga Studio. As a 500 hour RYT in training and level 1 iRest Yoga Nidra (Integrative Restoration), Janel has the opportunity to share the benefits of the practice with her community by helping others cultivate their own inner peace and strength and healing. Janel is now sole owner of Trinity Yoga Studio, Inc.

Janel is co-founder of Veterans Alternative Therapy Center in Holiday, Florida. Veterans Alternative was created to help returning warriors change their post-traumatic stress in to post traumatic growth. The company founders, a Disabled Combat Veteran (Brian Anderson) and a female Combat Veteran (Janel Norton), are dedicated to offering restorative therapies to their brothers and sisters in uniform who are serving or who have served the United States of America.
Christina Chatfield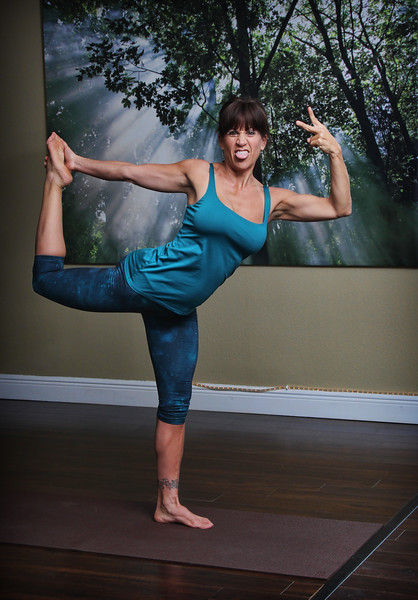 Christina Chatfield is a 200 hour ERYT with Yoga Alliance through Radius Yoga Condtioning, FMS (Functional Movement System) trained, Vedic Thai Yoga Assisted Asana Practitioner and Acutonics Sound Therapy Practitioner, and a seasoned leader in the fitness world. Christina's love of yoga began in a gym and evolved into a full time passion. Yoga has changed Christina's perspective on fitness and how she creates a healthy and functional body, mind and spirit. She found that feeling good in her body correlated with feeling connected spiritually emotionally and mentally as well. This connection constantly inspires Christina to become more knowledgeable of how our bodies work, how important proper breathing is and knowing that the biomechanic of breath directly impacts how our bodies move. When Christina teaches she tries to inspire her students to find greater awareness of their own bodies to create well being.




Victoria Hawkins
Victoria Hawkins is a 200 hour RYT Yoga Instructor, Intuitive Artist, Licensed Clinical Social Worker, Certified Stress Management Consultant, Certified Medical Meditation Consultant and in her spare time- a Belly Dancer. She has been working with families and individuals of all ages "off the mat" since 1996 after graduating from FSU with a Masters in Social Work. Victoria discovered yoga in 1998 in a Bally's gym in West Palm Beach, FL. Meant to be a way to stay flexible, yoga became a life transforming practice. She received her Hatha Yoga certification in 2008. In 2011 she received her Level 1 & 2 Radiant Child Yoga Certification. And in 2012 she earned her 200 hr RYT certification in Empath Yoga. Victoria's yoga style is a balanced fusion of strength, flexibility, and flowing movement. She loves to create an environment where yoga is accessible to everyone in the room; no matter their abilities or experience. Victoria is an avid reader of spirituality texts and ancient wisdom, and she loves to integrate these pearls of wisdom into her "on the mat" practice as she passes her learnings on in a "relevant-to-today" kind of way. Her informal "life" training has come from a variety of sources and teachers, and she looks to live in her Now as she learns to simply Be and follow her passions where they will lead!



Alison Voisin
Alison's love for yoga was ignited immediately after she attended her first class. She found that it brought her peace and helped to ground her in the present moment. Each time her mat was unrolled it felt as if she was coming home. After yoga turned from a hobby into a lifestyle Alison decided that she wanted to become a teacher. She became certified with Yoga Alliance in 2010 after receiving her 200 hour RYT with Ally Ford. Also a Licensed Mental Health Counselor, Alison sees both the mental and physical benefits of a consistent yoga practice and feels blessed to share her passion with others.
~Om Shanti~


Mary Olbruck Derkevics

Mary attended her first yoga class in 2004. She was always active and interested in fitness whether it be lifting weights, spinning, or running. After her first yoga class, she knew immediately she needed to incorporate yoga into her exercise routine. She loved the way it made her feel mentally and physically. In 2010, after having her daughter, she continued her practice and came to the realization that not only practicing yoga but, teaching and sharing it with others was her life long dream and passion. Mary first and foremost, reminds her students that "Yoga is a Journey." She loves to incorporate fun and challenging poses in her classes including arm balances but, also teaches her students how to utilize their breath throughout their practice whether it be going deeper into poses or calming the mind. She is a graduate of the Prana Vinyasa 200hr Yoga Teacher Training Program.
Connie Frank
Connie is a certified Aerial Yoga instructor and her philosophy on fitness is to always have fun! Her idea of having fun is to play with others doing Acro Yoga, yoga, Aerial Tissu, slackline, SUP, dance, pole dance... and anything else that allows her to play and hang upside down. She derives much joy in helping others find strength and trust in themselves while trying things they didn't think were possible. Playing can be hard work, but it all pays off in the end! "Nothing is impossible... the word itself says I'm Possible" - Audrey Hepburn


Leslie Lemmon
Leslie is a 200 hour Registered Yoga Teacher, as well as a licensed Massage Therapist. Leslie shares insight from her personal journey of yoga beginning as recuperation from a terrible car accident. She found that yoga helped regenerate nerves injured by complications of surgery and decreased her constant neck and back pain. Her teaching style fosters the peace and balance of a well rounded practice, a peaceful meditative presence to unite the mind, body and spirit.


Kathleen Smith
After attending occasional yoga classes over the past several years, Kathleen did not discover her true love for the practice until early 2013. While her mother went through cancer treatments, Kathleen found the healing power of yoga. She found that yoga helped her relieve stress and find peace of mind. Kathleen began her yoga teacher training knowing it would help her cope with the challenges she was facing. She was intrigued by the practice and wanted to learn more. A self journey that ended with the intention of sharing and teaching all yoga has to offer. Kathleen enjoys a vinyasa style practice and loves to add challenging but fun poses to her classes. She also enjoys the detoxifying nature of hot yoga. Kathleen graduated as a RYT 200 hr from the Lotus Pond Teacher Training Program in March 2014.


Kashi Heynis
Kashi is a 200-hour RYT graduate of Pose by Pose Yoga. She teaches and promotes through social media for the studio. Kashi's teaching approach is an eclectic blend of mindfulness. Street Yoga certified, Kashi works as a trauma-sensitive yoga instructor for active military and veteran populations as well. Her roles at Veterans Alternative include Retreat Coordinator and Clinical Support (utilizing Accelerated Resolution Therapy). She has a strong passion to share the practice, integrated within her role as a mental health counselor.
As a private Licensed Mental Health Counselor, Kashi provides guidance and support to her clients with a holistic approach to mental wellness. Yoga and meditation are prominent within her approach to leading classes, providing counseling, and within her personal life. As an ACA SUP instructor, Kashi also enjoys taking people out onto the water to explore the wonders of nature and to disengage from the daily grind. Kashi hopes to inspire people to discover the callings of their heart, lead a happier life, and feel more balanced.


Tanya Poulos
Tanya has been teaching yoga since 2012 after taking Ally Fords 200hr yoga teacher training, now an 200hr ERYT, along with being a massage therapist, she loves teaching all students from beginners to seasoned practitioners. Just as her students learn from her she also learns from them. Tanya teaches Ashtanga based yoga from Mysore to led traditional full and half primary classes, along with power yoga, gentle, private sessions, and other forms of yoga like guided meditations and pranayama practices. Continuing with her education of various workshops she takes that knowledge and shares it with her students. Tanya is a dedicated student of Ashtanga Yoga and always a student first and then a teacher.





Pam Reed
Pam Reed – RYT, discovered yoga in the '80's when she studied with Alan Bateman in NYC. Music and dance are part of Pam's history. She had an acting career and also trained in dance and voice prior to becoming a speech language pathologist.
Pam is a 2011 graduate of Micheline Berry's 200 YTA Teacher Training program in Vinyasa Flow/Prana Flow™ (Shiva Rea) and is also certified to teach Five Element Yoga ®. She is a member of the Yoga Alliance (RYT-200). Her compassionate and gentle teaching style and her passion for laughter and story telling only add to her artful ability to teach young and old alike.
In taking Pam's class, people will experience a loving kindness yoga based in the Prana Flow™ system along with meditation and healing.
Your voice is your inner light. Let it shine!



Ashley Hinds
Ashley has been practicing yoga for six years and teaching for one. Her practice began during a difficult pregnancy, when she discovered that yoga helped her body aches as well as stress level. After the baby, she found that continuing to practice helped to heal her physically and began to conquer the chronic back pain she had experienced for years. As she got past the pain and her practice deepened, her mat became the place she laid out problems. Life seemed clearer, somehow, after her moving meditation asana. It was around this time she was inspired to attend a teacher training and share this gift with others. Ashley feels there is a yoga practice for everyone and that it is a lifelong journey. So she teaches to everyone, at all points on the journey: gentle, yin, hatha, vinyasa, hot power, ashtanga - "wherever you are, meet me on the mat!" -Ashley






Morgan Stout
Morgan fell in love with yoga after her very first class, which happened to be at Trinity Yoga Studio. She was searching for true connection of mind, body, and spirit. Morgan was able to cultivate this connection through practicing and studying yoga.
Morgan is a certified 200 hour instructor, having completed her training in a rigorous immersion program in Montezuma, Costa Rica. Under the guidance of Banyan Gallagher, she has studied philosophy, the power of mantra, and the power of the breath. She has a soft spot for Vinyasa, and enjoys creating classes with a purpose of connecting body to breath and incorporates themes of inward focus and meditation in her teaching.
Morgan firmly believes in the importance of always remaining a student, and continues her education through readings, daily practice, and plans to complete training for her 500 hour certification.